Marketing manager Pipsa Karioja explains why health tech companies will find it's worth choosing the right partner to make the most of such a significant piece of marketing activity.
Buddy Healthcare was established in Finland in 2016 and has become a leading provider of technology to streamline and automate perioperative care pathways across Northern Europe and Germany.
Over the past two years, the company has started to work with NHS health boards and trusts. So, it wanted to run a webinar to show clinicians and operational leaders how its platform and app could help them and their patients while the NHS is under immense pressure to tackle waiting lists.
Buddy Healthcare had experience of running a webinar in house and of working with another UK provider. But to deliver this critical piece of activity, it turned to Highland Marketing. Marketing manager Pipsa Karioja explains how this enabled it to deliver an event that "went super-well."
Why did you want to run a webinar?
Pipsa: Getting meetings with busy NHS professionals is challenging, so we wanted a way to engage with more people. Also, we are working in an 'experience' industry, so we wanted a way to show people what we could do. We wanted to demonstrate that we have happy customers, and to outline some of our efficiency metrics. A webinar was a good way to do that.
There are lots of webinar providers: including health tech websites. Why did you want to work with Highland Marketing?
Pipsa: We decided to do a webinar with you because you were recommended to us, and that was important for establishing trust. But the big reason was that you know the NHS. We had realised that the NHS has its own kind of audience. It has its own language, and if you don't get it right, it is very hard to reach.
You ran a big email campaign to recruit an audience. How did Highland Marketing support that?
Pipsa: The first piece of good advice that you gave us was not to go ahead with the first date we had thought of for the webinar. You advised us that we needed three months to work through the webinar process properly – you can't just send out one email and expect people to appear.
Then, we bought a database from Highland Marketing and added our own contacts to it. That was really useful, because it gave us 5,000-6,000 people to target. We made sure our sales team was really engaged with the webinar and ready to send information to customers and prospects. But you wrote the webinar landing page and webinar invitation text, and that was super-good, and one reason that we got so many people on the day.
A lot of planning went into the content of the webinar. How did that support its success?
Pipsa: The webinar also worked well because we had the right topic: "digitising the perioperative pathway." It was relevant for the audience, and it was topical because the NHS is focused right now on the backlog of elective care that has built up since the Covid pandemic.
Also, you advised us that people in the NHS really want to hear from other people in their situation. So, we decided to choose two doctors, one from the UK to talk about their experience of using Buddy Healthcare for pre-op, and one from Finland to talk about post procedure follow-up.
We got more people to register, because some were interested in the pre-op piece and some were interested in follow-up. And we were able to explain that our platform does both and that it works for different surgical specialties so there is no need for health boards and trusts to buy lots of different solutions.
Some webinar providers don't arrange for the presenters to meet the moderator or to have a rehearsal ahead of time; but these discussions are built into Highland Marketing's webinar process. Were they worth it?
Pipsa: It was absolutely beneficial to have the three participants talk to the moderator before the webinar. When we met with our founder and chief executive, Jussi Määttä you suggested that he should do a question and answer session, rather than a presentation with slides, and that worked very well.
It was also good to meet the two doctors before the webinar, and the rehearsal two weeks before was very good because we could help them with their messaging and their slide presentations. The UK presentation shaped up a lot and came over really well on the day. So it was definitely worth taking that extra time.
How many people attended on the day?
Pipsa: We had 211 registrations, of which 189 were from healthcare professionals in England, Scotland, Wales, Ireland and Finland. Just under 100 people joined the webinar, of which 84 were healthcare professionals, and some of the rest were Buddy partners, which was also important. That was a 360% increase in registrations and a 545% increase in attendees on our previous webinar.
And did it go well?
Pipsa: It went really well. The team was super-happy. It was very professional and we got really good feedback from our team and from existing customers.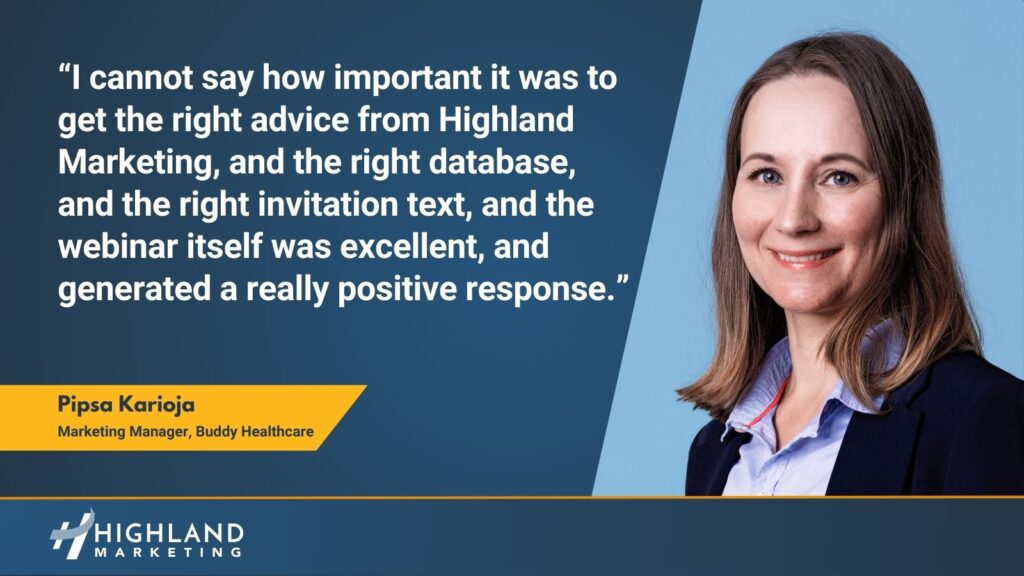 What are you doing to follow-up?
Pipsa: I built my own Excel spreadsheet and segmented the participants. I sent an email with messaging for each segment and a recording of the webinar. The sales team have been picking up with their own prospects, using the email templates I prepared, and adding their own personalisation. We were able to engage some prospects and to get new meetings planned.
Highland Marketing also creates a write-up of the webinar, which companies can use on their website and send to selected health and health tech websites. Did that work for you?
Pipsa: That was a very good use of the webinar. It was not something that we had thought about, but it showed your experience and your expertise in PR. We got it distributed to health tech websites and, although it is not generating direct leads, if people are using an internet search engine, they will find it and see that we are aligned with NHS priorities and that we have customers willing to speak for us. Media hits with right keywords are also increasing our brand awareness.
We have also used links to the write-up to promote the webinar recording on social media, and you created additional video assets for that . They were really professional. They look really good and I'm sure we will find lots of uses for them.
What are your final thoughts – and do you have any tips for health tech companies that would like to run a webinar?
Pipsa: A webinar is a lot of work. We are getting ready for our big customer conference in Finland. It is a paid-for conference, with 70 people attending, and a waiting list, and there is a big dinner in the evening with a comedian. So it is a big thing, but in terms of the amount of time it has taken to organise, I think the webinar was similar.
If you are going to put so much effort into something, you need the right partner to help. I cannot say how important it was to get the right advice from Highland Marketing, and the right database, and the right invitation text, and the webinar itself was excellent, and generated a really positive response. Everybody at Buddy Healthcare is impressed and really happy about it.