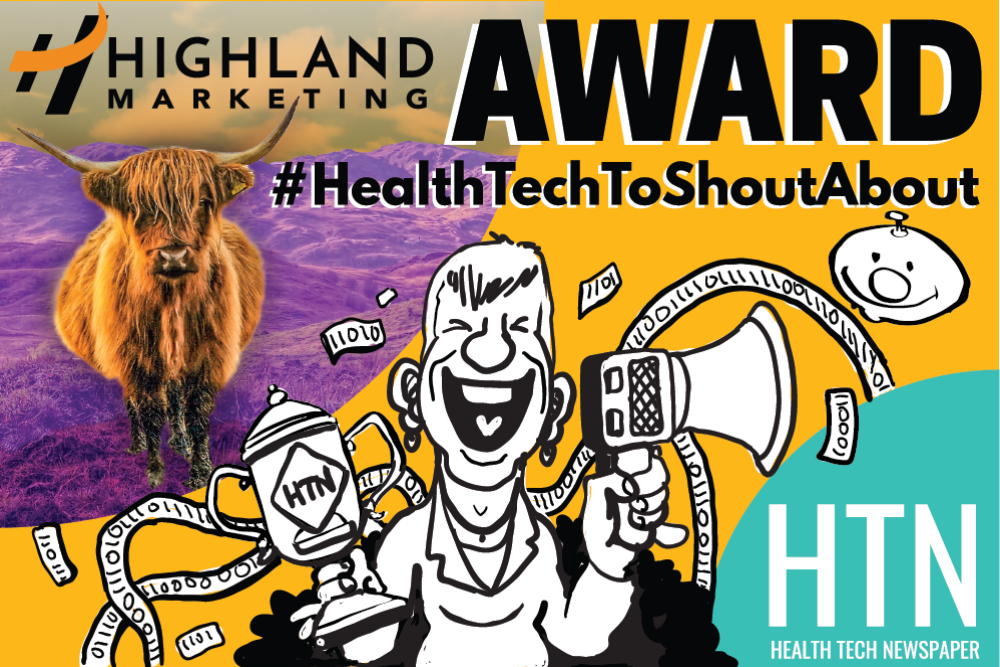 Highland Marketing is sponsoring the #HealthTechToShoutAbout category of the Health Tech Awards 2019, run by the Health Tech Newspaper. North Tees and Hartlepool NHS Foundation Trust won the 'impact' category of last year's awards; and we asked Dr Graham Evans, its chief information and technology officer and the chief digital officer for the North East and North Cumbria Integrated Care System, why it entered and what the benefits have been.
North Tees and Hartlepool NHS Foundation Trust is an integrated hospital and community services organisation, serving around 400,000 people in Hartlepool, Stockton, and parts of County Durham.
It has a twenty-year history of health tech innovation; it was one of the first trusts to embrace digital imaging in radiology, alongside a range of national programme systems, electronic document management and mobile working. Then, in 2014, it announced that it was going to become the first English trust to deploy the InterSystems TrakCare electronic patient record.
The trust went live in 2015 and, after a period of stabilisation, went on to deploy e-prescribing and to run a paper-lite project in A&E that will inform the roll-out of clinical and nursing notes. As a 'fast follower' within the global digital exemplar programme, the trust is looking to reach level six on the HIMSS EMRAM digital maturity model within 18 months and has the ambition to reach level seven.
With so much going on, Evans acknowledges that North Tees and Hartlepool has not always found time to shout about its health tech achievements as much as it might have done. Which is one reason that it entered last year's Health Tech Awards, run by the Health Tech Newspaper, from which it emerged as the winner of the 'impact' category.
Why put in an entry for a health tech award?

"It is about being proud of what you are doing. At North Tees and Hartlepool, we have not always been proactive about PR. Sometimes, we do things, and we don't tell anybody, and then we hear about another trust that is getting loads of publicity and credit for doing the same thing. So, it is not about bragging; but it is about showing other organisations what we have achieved."
Did you look for help and support with your entry?

"As a first of type trust, we have a very close relationship with InterSystems, and it helped us to get some of the material together to support our entry. We also used a professional writer from Highland Marketing to help us draft our entry, to make sure it made the best case that it could. We are focused on supporting the trust and its staff to deliver treatment and care, and not on filling in forms or drafting award entries, so that input was very useful."
You won an 'impact' award: what has the impact of TrakCare been?

"When we started out with our electronic patient record, we were already a relatively digitally mature trust, even though our systems were not integrated. So, moving from one electronic system to another delivered some benefits but it was a bit like "doing the same things better." Clinicians have a lot more of the information they need in one place, but there wasn't a huge benefit.

"E-prescribing, though, has taken us from paper processes to non-paper processes, so that has really moved us forward, this is about "doing better things." Some of the practical solutions that we have developed have also had an impact on getting staff to embrace digital working.

"For example, we have developed what we call WoWs, or workstations on wheels, that let people doing drug rounds look at the patient record and then dispense drugs from a lockable cabinet. They're not smart or sexy, but it's a real solution to a practical problem."
What were the benefits of winning the award?

"Because the award was run by the Health Tech Newspaper, it gave us some coverage of our achievements. That was extended by a press release, so, we got some good PR out of it.

"We also got a lot of social media exposure, and our internal communications team has used that to promote what we have been doing to our staff and stakeholders. We got over the message that what we have been doing is all about improving health and care, and not just about deploying technology for technology's sake.

"I also got some personal exposure, which was nice and, more importantly, opened doors to talk to other organisations. A badge of honour can go a long way."
Some trusts also use awards as a recruitment tool: have you done this?

"Our trust is already doing well on recruitment; and while we would like to say that is all down to the work that we have been doing on technology, the truth is that it's just part of the picture. Doing well on A&E targets and CQC assessments and getting good feedback from the staff survey; those are the big supports.

"Having said that, if we were saying to junior doctors that they would be working with a piece of chalk on a slate, I don't suppose many would come here. Being able to say that we are a digitally advanced trust, and to prove that, does help."
What's next for health tech at North Tees and Hartlepool?

"The next thing will be to roll-out clinical noting. Now we have this in A&E, we will be rolling this out on the same model as e-prescribing, which we did in nine months, start to finish. Once we have electronic medical notes and nursing notes, we can really start to take paper out of our processes.

"At the same time, we are looking beyond the boundaries of our hospitals. I am leading digital transformation in the North East and North Cumbria, and we are putting together a digital strategy to describe what we want to do as a region. We need to make sure all the organisations involved have the basics in place, but we also need to focus on patients and how they are moving around the system.

"The NHS is more than 70 years' old now, and it can't just keep doing what it was set up to do in 1948. It needs to tackle demand, to address the needs of an older population, to get to grips with long-term conditions, and to tackle lifestyle issues. And all of that is about getting individuals more involved in their own health and care."
Would you recommend other organisations to enter awards?

"Absolutely. The NHS is terrible for re-inventing the wheel. We need to look around for good ideas and be humble enough to pick them up and implement them quickly. Awards are a good way of hearing about what other people are doing. And, just now and again, it is really great to get some independent recognition for the good things you are doing."
Highland Marketing is sponsoring the #HealthTechToShoutAbout category of the Health Tech Awards 2019, run by the Health Tech Newspaper. The awards, which are now in their third year, have a wide range of categories to recognise many different aspects of good work in healthcare IT.
To find out more, visit the awards website. To find out more about Highland Marketing's involvement and what our panel of independent advisory board judges will be looking for, read our press release. Entries close on 17 June 2019. Good luck!
Want more articles like this one?
Our free newsletter drops into your inbox every Friday to bring you...
Industry news

Essential analysis
Unmissable interviews

HM blog posts, tips and advice