ANCILE Solutions' digital training platform, uPerform, helps healthcare organisations prepare staff for the deployment of major healthcare IT systems. The company is well-known for its technology across different industries, internationally, so when it wanted to launch the platform for the UK healthcare market, it turned to Highland Marketing to host a webinar for prospective clients.
To learn any new technological system takes time, the right training and regular positive reinforcement of knowledge gained. Traditionally, training for healthcare staff on new IT systems has taken place in classrooms and been backed up by floorwalkers on go-live day.
This is no longer viable for many organisations because the coronavirus pandemic has brought about social distancing and other measures to ensure staff safety; and there is also a recognition that technology can provide more efficient options for the dissemination of information.
US company, ANCILE Solutions has an online platform, uPerform, that reduces the need for classroom training by giving staff access to teaching materials from any device with a wi-fi connection, which can be complemented by in-app learning, tips and refreshers, whenever needed.
Showcasing a successful product
The platform has proven to be successful in US healthcare organisations, with performance metrics such as a 45% decrease in instructor-led training (and consequential reduction in staff time away from the job), a 40% decrease in training costs, 40% reduction in help-desk calls, and a 15% increase in user efficiency of electronic patient record (EPR) systems.
To build on its US success, ANCILE Solutions wanted to launch uPerform in the UK, to showcase its benefits to NHS organisations and gain new client leads. It also wanted to extend its reach to other EMEA and US markets. With a focus on technology, the company wanted to take advantage of a shift to digital communications and so enlisted the help of Highland Marketing to organise and run a webinar with an engaging format.
Getting the right message across
As the software company's UK PR and communications agency, Highland Marketing has extensive expertise and a network of connections in healthcare. We began by discussing key requirements with the client, along with outline messaging and suitable speakers. We also proposed having an artist to create live graphic recordings of the event, to add a bespoke visual aspect and provide assets for use as subsequent marketing assets. Zoom was our chosen platform, for the flexibility of presenter features, audience interactivity and attendee metrics, as well as being familiar and easily accessible to many users.
Online event for a digital product
Working with the panellists, we drafted an agenda with key talking points for each speaker, considered what sorts of queries might arise in the Q&A section, and set poll questions to be shown on screen to solicit responses from the attendees.
We set up the webinar hosting platform; created textual and visual content for ANCILE Solutions to use on its website and in mail-outs to contacts and prospective clients; and began a programme of social media posts to drive registrations for the event. Regular updates on registrants were sent to the client, so they could track interested organisations and individuals. More than 130 people from NHS and other healthcare organisations in the UK and overseas registered to attend the event.
We held a rehearsal with panellists, to check the technicalities of speaking, presenting slides and answering questions, and ran through the content itself. From this we refined the talking points slightly to ensure that the key messages would be delivered in a way that would be engaging for the audience.
Communications collateral
Having prepared fully with the client and panellists, the event ran smoothly, with questions and messages coming in from the audience.
Afterwards, a list of who attended (and which registrants did not attend) along with the Q&A queries and poll question responses, were sent to the client so its team could follow up with additional outreach to potentially interested parties.
We produced a write-up of the webinar, and this, along with the recording and drawings made during the event, were supplied to ANCILE Solutions for its website. We continued with social media posts, to drive traffic to the site and encourage non-attendees to watch the recording. We also collated textual soundbites from each of the speakers, for the client to use in any ongoing sales discussions or other marketing activities.
The project also gave us scope to write a separate media-focused feature, to be placed with select publications.
Tracking engagement
ANCILE Solutions was extremely pleased with the outcome of the webinar as its EMEA sales director, Johnathan Pascall, gained new leads and subsequently held demonstrations of the uPerform platform to several potential new customers.
"I'm very pleased with the way the webinar went," he said. "As a company that is new to the UK healthcare market, the interest this has generated has been really good. We've got several qualified sales leads, from some large NHS trusts that have the vision, the need, the budget and the right people, to consider implementing our EPR training platform."
Some of the soundbites were used for sponsored LinkedIn campaigns and organic posts, which helped the company gain a 2,990% increase in impressions and saw a substantial increase in traffic to ANCILE Solutions' website.
Caitlin McVeigh, ANCILE Solutions' marketing director, said: "We've been getting some great results from this. The increased interactions and drive to our website is leading to some good conversations with potential clients."
Susan Venables, Highland Marketing's client services director, said: "Restrictions on travel and in-person events over the past year, have led to a natural shift to more online activities to promote clients' businesses.
"As a full-service PR, communications and marketing agency we advised ANCILE Solutions that holding a webinar would be a good way of launching its uPerform product to a UK healthcare audience and that this would help to reach a target audience in a practical and engaging manner. In so doing, we created an event with several digital content assets for the company to use, to showcase its capabilities to prospective clients, the healthcare media and to organisations with an interest in discovering how healthtech can help them."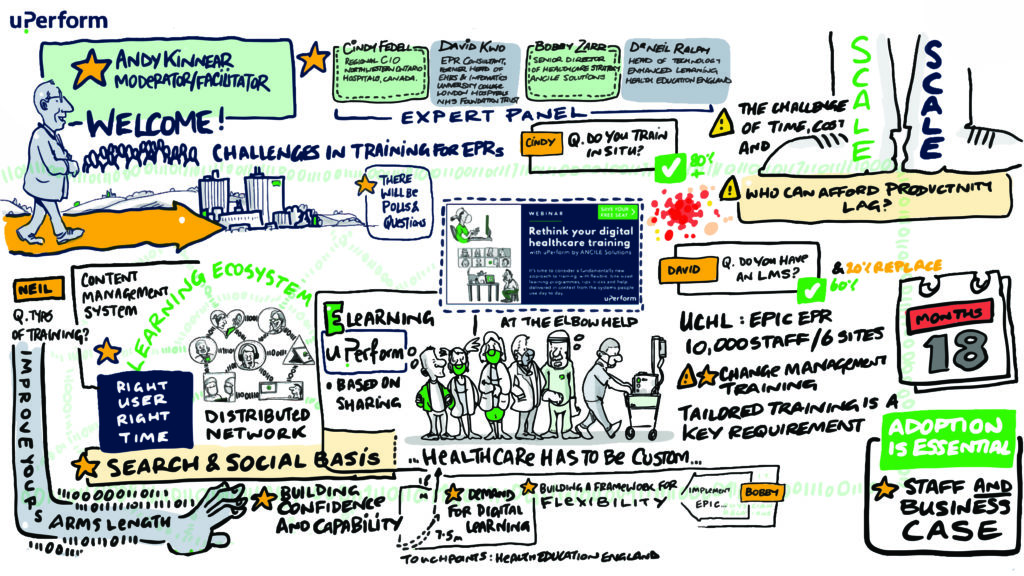 Key points
ANCILE Solutions' digital training platform, uPerform, helps healthcare organisations optimise the use of electronic patient record systems and other software.
The platform reduces the need for instructor-led training by providing online, in-application, role-based and on-demand training modules that users can access from any device with a wi-fi connection.
To demonstrate the capabilities of uPerform and launch the product to a UK healthcare audience, ANCILE Solutions asked Highland Marketing to organise and run a webinar, due to the agency's expertise in the healthtech sector.
The UK launch of uPerform has generated several qualified sales leads from NHS trusts.
Services and value
Contact us
Highland Marketing is an integrated communications, PR and marketing consultancy supporting UK and international health tech organisations. Over 22 years we have built a reputation for being the go-to agency for vendors and their customers. Talk to us about market strategy, research, branding, messaging, content marketing, PR, social media and sales acceleration.