When marketers go to sea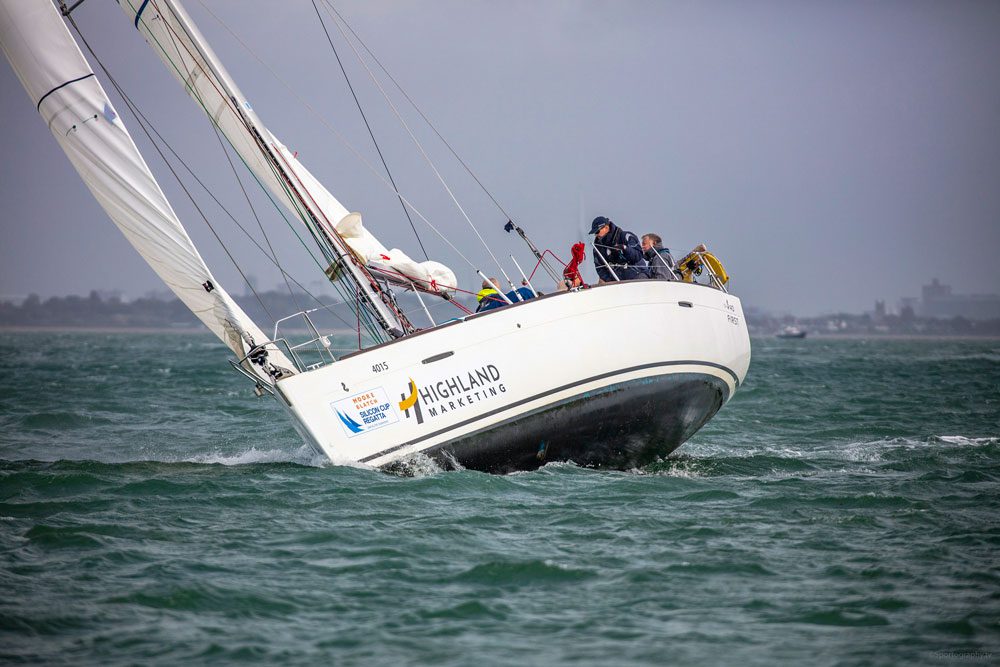 Highland Marketing took to the Solent for the 2019 Silicon Cup regatta: the #1 networking event on the water for IT professionals, which raises money for three great charities. From initial fear and apprehension, to just getting stuck in, here are some of the personal experiences of the crew.
Mark Venables, CEO
The Silicon Cup presented a great opportunity for novices who had never been on a boat before, let alone sailed in a regatta (race), or in winds that reached over 30 mph. It was a case of get stuck in or… well, there wasn't really another option! I am pleased to report that the Highland Marketing team rallied to the challenge and within a very short period of time everybody was a seasoned sailing pro.
It was a great opportunity to work as a team outside of our normal sphere of day to day activity and I could see that new aspects of friendship/camaraderie being developed. The team enjoyed the two days so much that they all want to learn to sail and I can see a Highland Marketing sailing club being set up to get out over a couple of weekends in 2020. This will almost certainly allow us to hone our skills for next year's event and give us the chance to climb up the rankings ladder. We are a very competitive bunch here at Highland Marketing!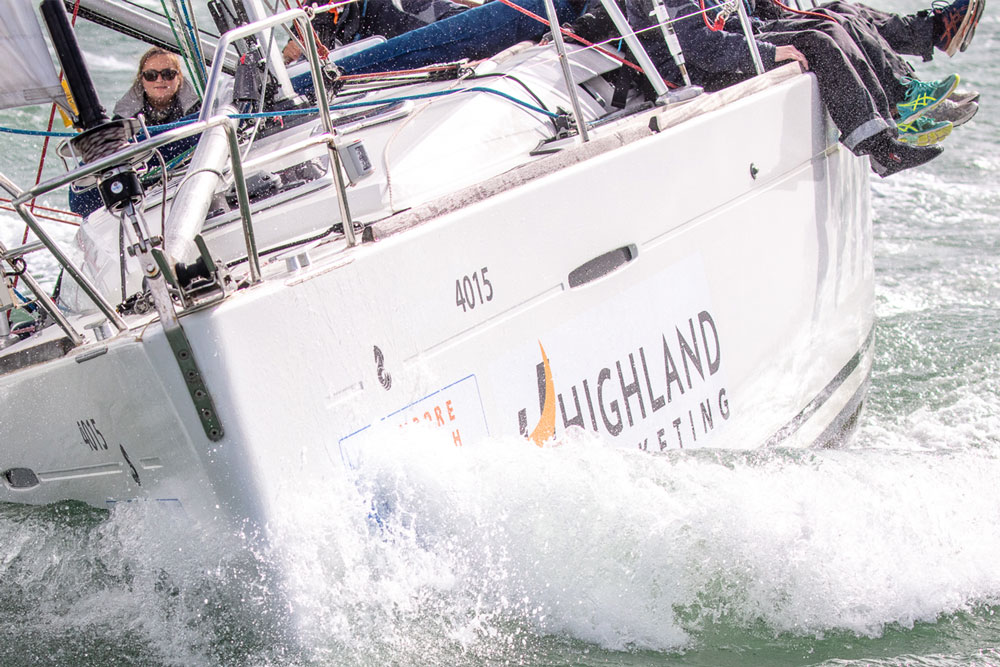 Tia Dissanayake, account executive
Although I have always thought of myself as a competent swimmer, and have enjoyed boat trips in the past, I wasn't quite prepared for the turbulent conditions we experienced when we sailed from Portsmouth to Cowes. Fortunately, after an initial period spent fearfully clinging onto the boat, I started to gain confidence and was able to get more hands on with the sailing.
My main role was to help with the tacking of the boat, which involved scrambling across to the higher side and leaning out over the edge each time the boat changed direction. After two days of racing, I was exhausted and windswept; but keen to learn more and sign up for sailing lessons. I really enjoyed the whole experience; even the sandwiches which quickly became sea-soaked on deck.
As a recent Highland Marketing recruit, I found that the sailing and evening entertainment offered a great opportunity for me to get to know the team better. It was also rewarding to be part of an event which was helping to raise money for Dreams Come True, the Jubilee Sailing Trust and the Andrew Simpson Foundation.
Sportography Limited

Sportography Limited

Sportography Limited
Myriam McLoughlin, senior account director
Through my work with Highland Marketing, I have had the privilege to meet and work with Deborah James, a stage four bowel cancer patient and ex-school deputy head now turned journalist and broadcaster. Her positivity, can-do attitude and love for life is both inspiring and humbling. Since meeting her I have made the conscious decision to grab any opportunity that comes my way to challenge myself and get out of my comfort zone.
So, when I was asked to take part in the Silicon Cup race, despite being daunted as a novice sailor, it was simply an offer I could not refuse! I had been on a sailing boat before, but the experience was not quite as a challenging. The Med on a sunny summer day is far calmer than the Solent on a stormy, rainy autumn weekend! However, despite the sheer fear at times – especially when the boat was tilting at what felt like 90 degrees and I thought I would be thrown overboard – it what as an exhilarating experience.
Beyond personal achievement, sailing also proved to be a great team building exercise. It quickly became apparent that to stay safe, and to make good progress in the race, setting expectations and having effective communication on board was key to making sure that the crew worked at its best. A lesson applicable to all sorts of work and life situations. Now, despite cuts, bruises and a very achy body from all the action on the boat, I can't wait for next year's race…
Jon Salmon, account director
Togged out in an almost pristine sailing cap, fingerless gloves and de rigeur knee pads, I was dressed for action. Like an old sea dog, I sniffed the Solent breeze and confidently surveyed the Isle of Wight coastline ahead.
Move over the nautical heroes of yesteryear, Captains Hornblower, Haddock and Birdseye. Inspired by the earlier sight of HMS Victory, the Highland Marketing team – motion sickness tablets already ingested – was ready for action and an afternoon of racing. This was not the sailing of glossy brochures showing bikini-clad women sipping champagne while they lounged on deck.
Without warning, our boat suddenly tilted violently on one side. I looked at my colleagues as we scrambled to regain our footholds and hang on. There was a muttered expletive or two as we laughed nervously through rictus grins, and then we went quiet – for about 20 minutes – while we got used to the swell, and movement and spray flying in our faces.
Then, there was much flitting from side to side to balance the boat, which gave us constantly changing perspectives of Osborne House on the Isle of Wight as we tacked round the race buoys. We got into the rhythm of being aboard, the looking ahead for potential gusts that might play havoc with our chosen course, reading the way boats ahead were manoeuvring, and enjoying the moment as a team as we sped past more sluggish vessels. And there's always next year to get on the podium.
Matthew D'Arcy, senior communications consultant
Racing a sailing boat against a fleet of nearly 30 on the Solent was an experience not to be missed. When first invited to join the Highland Marketing crew, I must admit feeling slightly apprehensive having never been on a sailing boat before. But getting onboard was undoubtedly the only decision to make.
It says something about a company that invites its team to take two valuable days out of a very busy and sometimes intense working schedule, and to dedicate their time to something as positive as The Silicon Cup, which supports several commendable charities. This was more than just a team building exercise; it was a chance to do something entirely different – a figurative and literal (or littoral) breath of very fresh air.
Faced with the Solent's 30 plus knots winds and rough waters, the mostly novice crew of our 40ft boat found out first hand just how important effective communication is when encountering what for many was the unknown. It took many of us by surprise when the first tack of the day left half the crew staring down at a near vertical drop to the seas below. Our very quiet tones and faces said enough for our seasoned sailing CEO Mark to step in and reassure us.
And after the first 15-20 minutes we were acclimatised to enjoying the experience of catching and overtaking other boats, whilst evading container ships and marvelling at the history that preceded us on the waters we sailed. This was an unforgettable experience, a chance to see colleagues in a completely different setting, to appreciate the endeavours of others and to challenge ourselves to do something outside our normal levels of comfort.
Michelle Cheng, marketing executive
I've been working with the Silicon Cup committee for the last nine months and throughout that time their passion for raising funds for the three charities – Dreams Come True, Jubilee Sailing Trust and Andrew Simpson Foundation – never wavered. It was truly inspiring to see the lengths they went to ensure that the regatta was successful despite all holding down full-time jobs.
At the evening party, the energy in the room was electric. All the attendees were excited from the day out on the sea, talking about their experiences. And you could really see each of the team bonding with one another. It has been great to see that this year's regatta has enabled the Silicon Cup committee to smash through the target that they set themselves when they started the event of raising £1 million for their charities; and I'm excited to see what the next year brings.
Want more articles like this one?
Our free newsletter drops into your inbox every Friday to bring you...
Industry news

Essential analysis
Unmissable interviews

HM blog posts, tips and advice