Standing out needs more than just having a revolutionary product or service. A healthtech PR agency can help you effectively communicate your value proposition, build trust, and establish authority in the industry, balancing brand awareness with sales and lead generation. But how do you achieve this in the crowded health tech space?
The answer lies in leveraging the power of public relations (PR) and marketing. In this article, we'll delve into real-world examples of health tech companies that have soared in the public eye with the help of the healthtech PR agency of choice – Highland Marketing.
The transformative power of webinars
One of the most potent tools in a health tech company's arsenal is the webinar. It offers a platform to directly engage with a targeted audience, showcase expertise, and provide value. Buddy Healthcare, for instance, aimed to demonstrate to NHS health boards and trusts how its platform could assist both clinicians and patients. With the guidance of healthtech PR agency Highland Marketing, they meticulously planned the content, ensuring it resonated with the NHS personnel. The result? A well-received webinar that not only educated but also drove further marketing activities.
Navigating the NHS market
Entering and establishing a foothold in the NHS market is no small feat. It requires a deep understanding of the landscape, the challenges, and the needs of the stakeholders. Highland Marketing's expertise in this area has been instrumental for many health tech companies. By offering insights into the NHS market, they've enabled companies to tailor their offerings, ensuring they align with the needs of the NHS, ultimately driving adoption and growth.
Crafting compelling health tech stories
Every health tech company has a story to tell, but not all know how to tell it effectively. CliniSys, a leader in laboratory information management systems, leveraged the power of storytelling to resonate with its audience. With a tailored PR strategy, they were able to communicate their value proposition effectively, resulting in increased brand awareness and market share.
Projecting the right message
In the realm of medical imaging, standing out is crucial. One medical imaging company understood this and sought to project its unique value proposition to the NHS. Through a carefully crafted marketing campaign, they not only projected their message but also engaged their target audience, driving brand recognition and adoption.
Introducing new health tech solutions
Breaking into a new market, especially one as complex as the UK's health tech industry, requires a strategic approach. Alcidion, with its innovative health tech solutions, aimed to do just that. Working with a healthtech PR agency to develop the right PR and marketing strategies, they not only introduced their solutions but also established themselves as a trusted partner for healthcare providers.
Digital care plans and their transformative impact
The NHS has been on a journey towards digital transformation, and digital care plans have been at the forefront of this change. The introduction of digital care plans has revolutionised patient care, ensuring more personalised and efficient care delivery. By understanding the intricacies of the NHS's needs and the potential of digital solutions, health tech companies can position themselves as invaluable partners in this transformation journey.
Harnessing the power of cloud communication
In today's digital age, cloud communication solutions are more crucial than ever. X-on, a pioneer in this space, recognised the potential of cloud communication in transforming healthcare delivery. Working with healthtech PR agency Highland Marketing to develop a targeted marketing strategy, they showcased their solutions' potential, leading to increased adoption and recognition within the health tech community.
Webinars as a launchpad for new platforms
When Ancile Solutions was gearing up to launch its uPerform platform for healthcare in the UK, they turned to webinars as a strategic tool. With a bespoke webinar, they not only introduced their platform but also engaged with potential clients, driving sales leads and establishing their presence in the market.
Video content: A game-changer for trust building
Leeds Teaching Hospitals NHS Trust, in collaboration with Connexica, leveraged the power of video content to share their success story. This approach not only highlighted the benefits of their collaboration but also positioned both entities as thought leaders in the industry.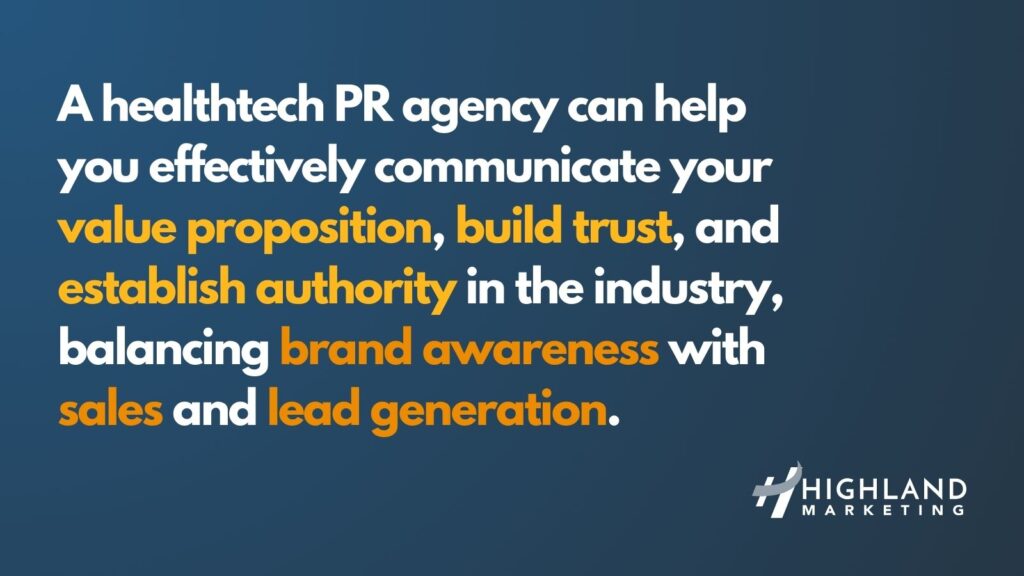 Patient safety and the role of thought leadership
Patient safety is a paramount concern in healthcare. Patient Safety Learning embarked on a mission to reduce harm by fostering a safety culture within the NHS. Through strategic thought leadership campaigns, they amplified their message, driving awareness and change within the healthcare community.
Breaking into the UK health tech market
For international health tech companies, the UK market presents both opportunities and challenges. Ancile Solutions is a testament to how working with a healthtech PR agency to develop a strategic PR approach can facilitate a successful market entry. By understanding the market dynamics and tailoring their message, they achieved brand recognition and growth.
Sailing towards marketing success
The Silicon Cup is a prime example of how unique marketing campaigns can drive brand awareness. By leveraging the event's potential, health tech companies can engage with their audience in a novel way, creating lasting impressions and fostering relationships.
The value of research-driven PR
Understanding market needs and trends is crucial. CommonTime recognised this and embarked with healthtech PR agency Highland Marketing on a research-driven PR approach. This strategy not only provided them with valuable insights but also positioned them as thought leaders in the industry.
The open-source revolution in the NHS
Open-source solutions have been gaining traction in various industries, and the NHS is no exception. The launch of an open-source NHS solution showcased the potential of community-driven innovation. By embracing open-source, health tech companies can foster collaboration, drive innovation, and deliver solutions tailored to the unique needs of healthcare providers.
Mobile solutions: The future of healthcare
The rise of mobile technology has transformed various sectors, and healthcare is ripe for disruption. NHS's collaboration with a mobile applications solutions provider underscores the potential of mobile solutions in enhancing patient care, streamlining operations, and driving efficiencies.
New Zealand's health software success in the UK
Breaking into a new market is always a challenge, but with the right strategy, it's achievable. A New Zealand health software company successfully built brand awareness in the UK by understanding the market dynamics, tailoring their offerings, and leveraging strategic PR initiatives.
Patient monitoring reimagined
In today's digital age, real-time patient monitoring is more crucial than ever. Patientrack's success in Scotland highlights the transformative potential of innovative patient monitoring solutions. By offering real-time insights, health tech companies can empower healthcare providers to deliver better patient outcomes.
Clinical research's unsung heroes
Behind every successful clinical trial or research initiative are companies that often go unnoticed. Illingworth Research is one such entity that, with the right PR strategy, gained the recognition it deserved. By showcasing their contributions and successes, amplified by a healthtech PR agency, health tech companies can position themselves as indispensable partners in the healthcare ecosystem.
Emergency response with Nervecentre
In emergency situations, every second counts. Nervecentre's solution played a pivotal role in streamlining emergency responses, showcasing the transformative power of health tech solutions. By addressing critical challenges, health tech companies can make a tangible difference in patient care.
Clinithink: Integrated communications for brand elevation
In the crowded health tech landscape, standing out is a challenge. Clinithink's integrated communications strategy not only raised their profile but also positioned them as leaders in their niche. Working with a healthtech PR agency and taking holistic communication approach can amplify a brand's voice, drive engagement, and foster trust.
End-to-end product launches: A race against time
Launching a product is always a challenge, more so when time is of the essence. The successful launch of a health tech product in a tight timeframe underscores the importance of a well-orchestrated strategy. With meticulous planning, agility, and the right partners, health tech companies can achieve launch success.
The transformative power of PR
These success stories underscore the transformative power of strategic PR and marketing in the health tech landscape. From elevating brands to driving product adoption, working with a healthtech PR agency and using the right strategies can propel health tech companies to new heights.
For health tech companies looking to make a mark, partnering with healthtech PR agency experts like Highland Marketing can be the game-changer. With a deep understanding of the industry, a proven track record, and a passion for driving results, Highland Marketing is the partner of choice for health tech success. Reach out today and discover how you can achieve unparalleled ROI and elevate your brand in the competitive health tech landscape.